Suretherm does work! - Don't just take our word for it
Jun 16, 2017
---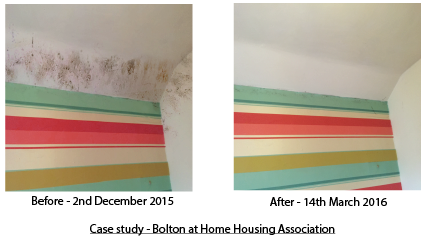 One question we regularly get asked is "Does Suretherm actually work?"
The short answer is yes it does. It is our understanding that our product is the only coating of its type which has actually been proven to work in independent tests and REAL LIFE case studies.
We don't have to say "just try it and cross your fingers", we can prove that it works.
Here is a recent testimonial from Martyn Hadacre, Burnley Council
Hi both – just re-discovered this email and wanted to fulfil my obligation regarding a reference for the thermal paint!
I have lived in a 1930s end terraced property for three years now and have been plagued with condensation and black mould on the walls in one of the bedrooms. The room in question is North facing and has two external walls. It's also the smallest room in the house and as such, furniture is pushed up close to the walls making ventilation very limited. For the first two years, over the autumn and winter months condensation and black mould would regularly appear on the two external walls. After using the thermal paint, the issues completely vanished. We applied two coats of the thermal paint and then, once dried we applied two coats of standard emulsion. We have since been through another autumn and winter with no recurrence of the issues. The walls feel physically warmer to the touch and I have been very impressed with the product. I would confidently recommend this product to others.
Best regards
Martyn Hadacre - Burnley Council